Box Office:
01664 500 642
Booking from 4pm Mon, Wed, Fri, Sun.
Booking from 1pm Sat, Tues and Thu.
Ticket Prices differ per film. Please see film synopsis for prices.
André Rieu 2019 Maastricht Concert:
Shall We Dance?
2019 has begun emphatically for The King of The Waltz, André Rieu. His first ever New
Year's concert grossed an incredible £1.917 million in the UK alone - the biggest opening weekend recorded for a music concert in cinemas - proving once again that he is one of the greatest entertainers on the planet. Now, André will take things much closer to home as he announces his annual summer cinema event from his hometown of Maastricht in the Netherlands. It is without doubt the music concert cinema event of the summer! For 2019 André is asking Shall We Dance? as he invites you to join him in the comfort of your local cinema, welcoming you into the beautiful and historic town that holds such special memories for both André and his fans throughout the world. Performing live from the stunning medieval town square, André is accompanied by his 60-piece Johann Strauss Orchestra, who he has travelled the world with for over 30 years, as well as a cast of over 100 dancers.
Running Time: Approx. 2 hours 20mins.
Prices: Luxury Seats - £20.00, Sofas for Two - £40.00, Standard seats - £17.00, Concessions - £14.00.
Membership discount of £3.00 applies.
Saturday 27th July : 7.00pm & Sunday 28th July : 3.00pm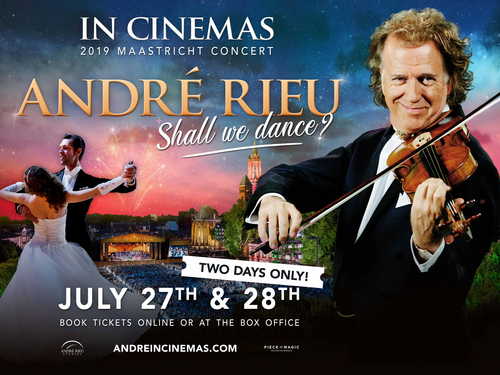 Giuseppe Verdi's masterpiece – compelling, blood-curdling and beautiful – is being performed for the first time on the unique, Bregenz lake stage. Once of Verdi's most popular works, Rigoletto is an unforgettable tale of a sacrifice and revenge; of a father's rage and a daughter's shame. It features several of opera's best-known arias-including Rigoletto's passionate denouncement "Cortigiani, vil razza dannata," Gilda's dreamy "Caro nome" and the Duke's instantly recognisable "La donna è mobile." Directed and designed by Philip Stölzl, this timeless tragedy will delight audiences with a powerhouse combination of entertainment and emotional intensity from the spectacular shore of Lake Constance.
2 hours 30 mins long.
Tuesday 17th September : 7.00pm
Placido Domingo 50th Anniversary Concert
With an illustrious career spanning five decades: over 150 stage roles, 11 Grammy Awards and his iconic performances alongside Luciano Pavarotti and José Carreras as one of the Three Tenors, the legendary Plácido Domingo continues to astound audiences with a vocal talent unmatched in power. For one very special night, Plácido Domingo returns to the breathtaking Arena Di Verona amphitheatre, 50 years after his debut, to revisit three of his greatest ever roles.
2 hours 30 mins long.
Tuesday 1st October : 8.00pm