Box Office:
01664 500 642
Booking from 4pm Mon, Wed, Thu, Fri, Sun.
Booking from 1pm Sat, Tues.
Ticket Prices: Luxury Seat £20.00 / Sofa for Two £40.00 / Standard Seat £17.00 / Concession £14.00 . Membership Discount of £3.00 applies.
by Arthur Miller, directed by Jeremy Herrin
Broadcast live from The Old Vic in London, Academy Award-winner Sally Field (Steel Magnolias, Brothers & Sisters) and Bill Pullman (The Sinner, Independence Day) star in Arthur Miller's blistering drama All My Sons.
America, 1947. Despite hard choices and even harder knocks, Joe and Kate Keller are a success story. They have built a home, raised two sons and established a thriving business.
But nothing lasts forever and their contented lives, already shadowed by the loss of their eldest boy to war, are about to shatter. With the return of a figure from the past, long buried truths are forced to the surface and the price of their American dream is laid bare.
Jeremy Herrin (NT Live: This House) directs the cast, which also includes Jenna Coleman (Victoria), and Colin Morgan (Merlin) alongside Bessie Carter, Oliver Johnstone, Kayla Meikle and Sule Rimi.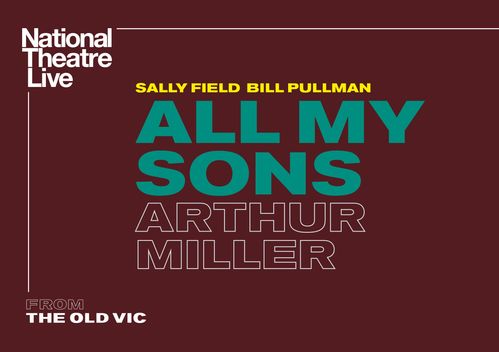 Tuesday 14th May : 7.00pm