Box Office:
01664 500 642
Booking from 4pm Mon, Wed, Thu, Fri, Sun.
Booking from 1pm Sat, Tues.
Ticket Prices: Luxury Seat £20.00 / Sofa for Two £40.00 / Standard Seat £17.00 / Concession £14.00 . Membership Discount of £3.00 applies.
USE THE DOTS AT THE BOTTOM TO VIEW MORE PRODUCTIONS FROM THE NATIONAL THEATRE
The Tragedy of King Richard II
Simon Russell Beale plays William Shakespeare's Richard II, broadcast live from the stage of the Almeida Theatre in London to cinemas.
This visceral new production about the limits of power will be directed by Joe Hill-Gibbins, whose previous plays include Little Revolution at the Almeida and Absolute Hell at the National Theatre.
Richard II, King of England, is irresponsible, foolish and vain. His weak leadership sends his kingdom into disarray and his court into uproar. Seeing no other option but to seize power, the ambitious Bolingbroke challenges the throne and the king's divine right to rule.
Simon Russell Beale returns to National Theatre Live screens following broadcasts of Timon of Athens and King Lear, and his recent role in the National Theatre's critically acclaimed production of The Lehman Trilogy.
Tuesday 15th January 2018
Show Time: 7.00pm
Do I run? This is the question which is facing Pauline Gibson. She has spent her life as a doctor, the inspiring leader of a local health campaign. When she crosses paths with her old boyfriend, Jack Gould, a stalwart loyalist in Labour Party politics, she's faced with an agonising decision.
What's involved in sacrificing your private life and your peace of mind for something more than a single issue? Does she dare?

David Hare (Plenty, Skylight, Stuff Happens) was recently described by the Washington Post as 'the premiere political dramatist writing in English.' His explosive new play portrays the history of a twenty year intimate friendship and its public repercussions.
Thursday 31st January 2019
Show Time: 7.00pm
by Arthur Miller, directed by Jeremy Herrin
Broadcast live from The Old Vic in London, Academy Award-winner Sally Field (Steel Magnolias, Brothers & Sisters) and Bill Pullman (The Sinner, Independence Day) star in Arthur Miller's blistering drama All My Sons.
America, 1947. Despite hard choices and even harder knocks, Joe and Kate Keller are a success story. They have built a home, raised two sons and established a thriving business.
But nothing lasts forever and their contented lives, already shadowed by the loss of their eldest boy to war, are about to shatter. With the return of a figure from the past, long buried truths are forced to the surface and the price of their American dream is laid bare.
Jeremy Herrin (NT Live: This House) directs the cast, which also includes Jenna Coleman (Victoria), and Colin Morgan (Merlin) alongside Bessie Carter, Oliver Johnstone, Kayla Meikle and Sule Rimi.
Tuesday 14th May 2019
7.00pm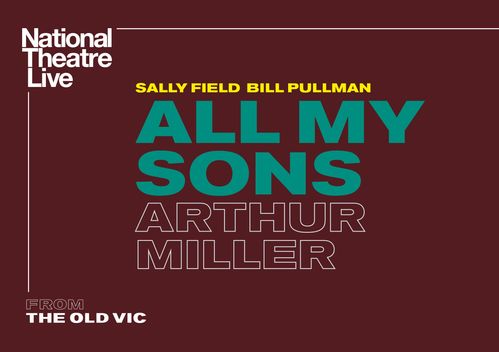 Tuesday 15th January 7.00pm
The Tragedy of King Richard II

Thursday 31st January 2019 7.00pm
I'm Not Running

Tuesday 14th May 2019 7.00pm
All My Sons