Booking from 4pm Mon, Wed, Fri, Sun.
Booking from 1pm Sat, Tues, Thu.
Ticket Prices: Luxury Seat: £20 .00/ Sofa for Two: £40 .00/ Standard Seat: £17.00 / Concession Seat: £14.00. Membership Discount of £3.00 applies.
Please note prices from 1st September:
Luxury Seat £22/ Sofa for Two £44/ Standard Seat £18 / Concession £15.

USE THE DOTS AT THE BOTTOM TO VIEW MORE PRODUCTIONS FROM THE BOLSHOI
On the bazaar square of Andrinopolis, the Pachais struck by thebeauty of Medora and tries to buy her, but the lovely young womanis not for sale. As the transaction is about to come to a close,Medora is kidnaped by Conrad, a charming corsair who catchesher eye...
Bolshoi Prima Ballerina,the "mesmerizing" Ekaterina Krysanovaand Leading Soloist Igor Tsvirko ignite Medora and Conrad'spassion with undeniable intensity.Le Corsaireremains abreathtaking production reworked by Alexei Ratmansky, who hascreated enough dancing for nearly theentire troupe, along withluxurious cinematic sets and a shipwreck, bringing the magic ofthis company to life.
Recorded Live.
Sunday 17th November : 3.00pm
On Christmas Eve, the mysterious Drosselmeyer brings a Nutcracker doll as a gift for his goddaughter Marie. At midnight, the doll comes to life and finds himself in a battle against the Mouse King, determined to save Marie from him. The ballet In this timeless story accompanied by Tchaikovsky's beloved score, rising star Soloist Margarita Shrainer perfectly embodies Marie's innocence and enchantment along with the supremely elegant Principal Dancer Semyon Chudin as The Nutcracker, captivating audiences of all ages and bringing them on an otherworldly journey.
Recorded Live.
Sunday 15th December : 2.00pm
The young peasant girl Giselle dies when she learns that the man she loves, Albrecht, has betrayed her. Against her own will, she joins the Wilis, vengeful spirits of mjilted brides who condemn Albrecht to dance until he dies of exhaustion... Giselle touches upon great and universal romantic themes. In this brand new production, renowned choreographer Alexei Ratmansky brings a fresh perspective to one of the oldest and greatest works of classical dance, giving the audience an opportunity to discover this iconic ballet anew.
Sunday 26th January : 3.00pm
Prince Siegfried is summoned by his parents to choose a bride.However, he encounters a mysterious swan-woman by the lake,Odette, and is captivated by her. His vow of eternal love to her will have irreversible consequences.
Tchaikovsky's essential masterpiece returns with a new cast for the most beloved ballet in the classical canon. Technically challenging and filled with vibrant emotion, with a stunning and world-famous corps de ballet in perfect unison, the legendary love story between Prince Siegfried and the dual personalities Odette/Odile, born at the Bolshoi Theatre, is a must-see.
Sunday 23rd February : 3.00pm
In spite of each of their families being merciless enemies, Romeo and Juliet are deeply in love. The rivalry between the Capulets and the Montagues will cost Mercutio's life, causing Romeo a desire of vengeance for the loss of his friend... The star-crossed lovers' tragic fate inspired Prokofiev a remarkable cinematic score, from the delicate theme of Juliet to the ominous Dance of the Knights. Bolshoi stars Ekaterina Krysanova and Vladislav Lantratov wholly embody the two eternal lovers in Alexei Ratmansky's stunning evocation of love at first sight.
Recorded Live.
Sunday 29th March : 3.00pm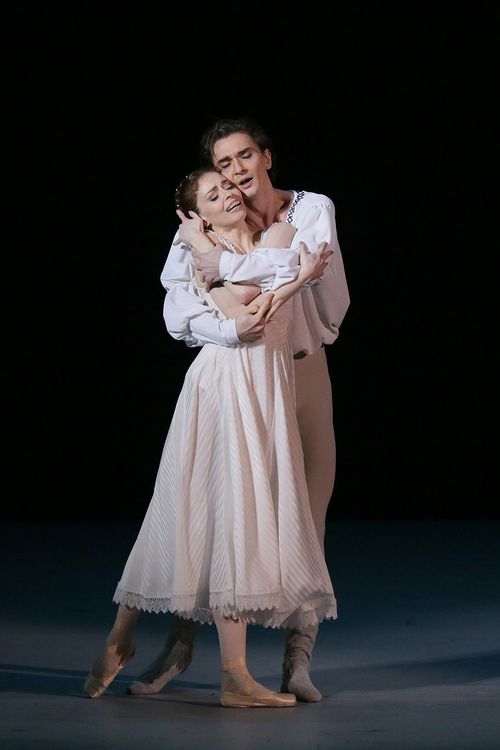 This opulent triptych was inspired by Balanchine's visit to the famous jeweler Van Cleef & Arpels on New York's Fifth Avenue, celebrating the cities and dance schools of Paris, New York and St. Petersburg, each bound to its own precious stone: emerald, ruby and diamond.
Balanchine built an homage of captivating beauty to the three dance schools that had forged his style, each represented by a contrasting gemstone. Jewels offers a unique occasion to enjoy the genius of choreographer's visually captivating work performed by some of the world's most dazzling dancers.


Sunday 19th April : 4.00pm